Core Subject Area II: Scrum Level Essentials
Goal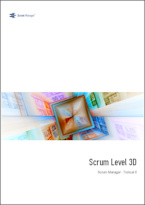 Upon completion of the content, the student will have sufficient understanding of Scrum Level to conduct agility improvement and evaluation processes in companies.
Scrum Level Essentials starts with a general review of agile management and the key concepts to understand the implications of agility for companies: cultural paradigms and the differentiated examination of organizations' cultural and operative dimensions.
Scrum Level Essentials elaborates on each one of these dimensions, explaining the practices and values that shape the pattern of the organization's own agile personality.
Ultimately, the student will be able to identify and evaluate the strengths and weaknesses of a company's agility, in a structured and objective manner.
Requirements
To leverage and understand Scrum Level Essentials, it's recommended to have completed the Scrum Manager Core I: Scrum Master.
Content
PREMISES
Predictive and progressive project management.
Cultural paradigms in organizations.
SCRUM LEVEL SCOPE
Dimensions of the organization.
Principles and values of agility.
Technical agility: principles and practices.
Organizative agility: values.
Managerial support.
AGILITY EVALUATION AND IMPROVEMENT.
Practices
Evaluation of agility in its operative dimension.
Evaluation of agility in its organizative dimension.
CHARACTERISTICS OF THE SCRUM LEVEL FRAMEWORK.
Course and certification exam.
ONLINE TRAINING COURSE FOR THE CERTIFICATION EXAM.
Available at Scrum Manager's Open Knowledge platform: "Scrum Level Essentials."
SCRUM LEVEL CONSULTANT CERTIFICATION EXAM.
At anyScrum Manager examination Centre.
In order to sit the exam it's necessary to have the Scrum Manager certification or accreditation, with at least 75 APs1.
Information about in-company or group courses.: admin@scrummanager.com